POST BALANCE SHEETS | 2021/22
TURNOVER TRIUMPHS
Sri Lanka's leading listed corporates demonstrate their resilience and nous as they forge ahead into 2022/23
The Central Bank of Sri Lanka's Economic and Social Statistics 2022 report reveals that provisionally at the time, 2021 witnessed GDP growth of 3.3 percent in comparison to the 3.5 percent contraction in 2020.
And it reported that unemployment stood at 5.1 percent of the labour force in 2021 – a slight decrease from 2020's 5.5 percent.
The Central Bank reported on external sector performance too, saying that "import expenditure declined in August 2022 on a year on year basis for the sixth consecutive month, despite recording an increase compared to July 2022."
"Considering the need to prioritise essential imports amidst the shortage of forex liquidity, the government tightened import restriction measures on non-urgent imports during August 2022, which, however were partially relaxed in September 2022," it added.

BUSINESS SENTIMENT The LMD-Nielsen Business Confidence Index (BCI) fluctuated throughout financial year 2021/22 – from a high of 138 in April to its lowest in the period, 87 in both June and July, to rally considerably to close the relevant period with a handsome demonstration of confidence: a score of 132 in March 2022.
The barometer dropped to its lowest point in the relevant period (87 in both June and July) with the onset of the third wave of the COVID-19 pandemic, which once more cast a shadow over business operations limping back to work.
But optimism rallied considerably and by September, the BCI was back in the triple digits (104) – and 2021 closed on a high note with a heartening score of 119 from which to face a new year.
The latest BCI survey, which was conducted in the first week of January, sees corporates expressing caution (the index remained at its prior reading of 86 basis points) having once more endured considerable setbacks in June and July 2022 (a low business confidence score of 49 in both months).
In a recent edition of LMD, NielsenIQ's Director – Consumer Insights Therica Miyanadeniya stated: "As we approach the end of 2022, which was a turbulent year, expectations of better things to come in 2023 is high on the radar."
CONSUMER CONFIDENCE Meanwhile, the Consumer Confidence Index (CCI) also stood firm at 39 in January (as in the prior month), in contrast to consumer confidence 12 month's previously (January 2022), which stood at 25.
BUDGET 2023 The national budget for 2023 – titled 'Sri Lanka, Towards a New Beginning' – was presented in parliament on 14 November 2022 with an expression of hope by President Ranil Wickremesinghe that negotiations with the IMF and the dialogue on debt restructuring will yield positive outcomes.
The president expressed confidence that inflation could be controlled and the rupee strengthened, enough to stabilise the economy in the coming calendar year.
He proposed a 'social market economy' to be led by the private sector while the government would focus on regulating economic activities, investing in infrastructure, and other public focussed actions and reliefs.
The proposed economy would be export oriented and competitive, environmentally-friendly green and blue, and digital. The macro fiscal framework goals include
an increase in government revenue to 15 percent of GDP; a public sector debt reduction to 100 percent of GDP; and inflation to be returned to a mid-single digit level – both of the latter in the medium term.
INTERIM RESULTS A review of the la­test interim results of the LMD 100 Leaderboard (for the period ended 30 September 2022) offers a degree of confidence that Sri Lanka's leading listed entities will enjoy reasonably healthy top line growth in financial year 2022/23.
This statement of confidence is due to the fact that the combined revenue of the 10 leading listed entities grew by a massive 72 percent (to around Rs. 1,819 billion).
Meanwhile, aggregate profit after tax (PAT) of the top 10 reflects an increase of 44 percent (to just over 126 billion rupees) compared to the corresponding period in the previous year.
All but one of the leading corporates are so far in the black in financial year 2022/23 (similar to the results in the prior year); and only two LMD 100 Leaderboard companies have had to contend with a profit contraction during this time.
Champion of the Leaderboard, Expo­lanka Holdings' income grew by 61 percent from a year back (to more than Rs. 396 billion) in the six months ended 30 September 2022. The logistics conglome­rate's profits also increased by 59 percent to register in excess of Rs. 29 billion.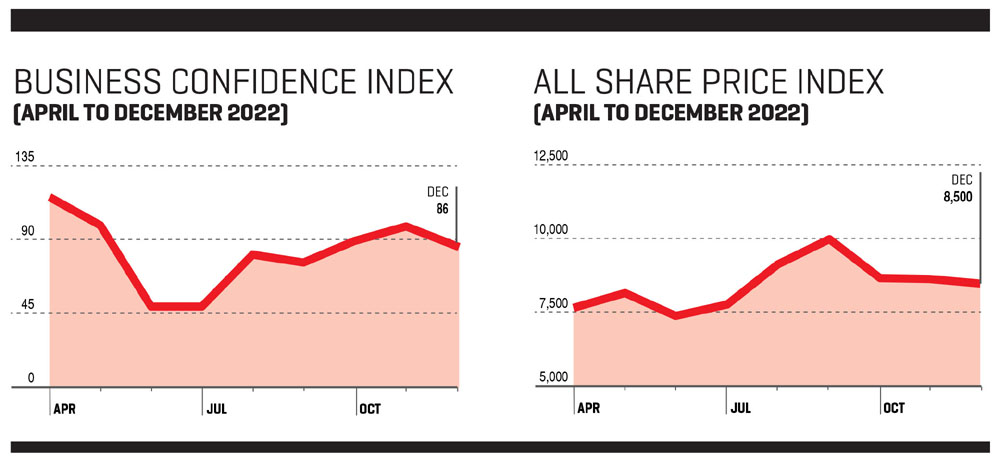 Executive Director and Group CEO Hanif Yusoof comments: "Adopting an 'asset-lite' operating model has enabled the group to see improved returns and enhanced shareholder value. The largest asset on our balance sheet is the working capital asset, and the group has been able to manage this diligently."
"Strengthening our balance sheet and having the optimum capital mix was a critical component of our strategy, which paved the way for the group to deliver these outstanding results. Preserving growth capital, improving the debtor profile, and enhancing our cash flow position enabled the facilitation of growth," he emphasised.
Yusoof continues: "All in all, this past year has been remarkable in many ways. It has been a year of solid growth, where we saw the results of our sustained strategy over the past few years coming to fruition…"
Hayleys, the capital goods diversified conglomerate led by Mohan Pandithage, which occupies the No. 2 slot in the 2021/22 LMD 100, has reported a substantial 69 percent hike in consolidated revenue for the first half of 2022/23 to exceed Rs. 250 billion – and its bottom line expanded by an eye watering 192 percent to over 23 billion rupees for the six months ended 30 September 2022.
The Hayleys Lifecode titled Enriching the Future, set out in its 2021/22 annual report, states: "Over the years, Hayleys PLC has crafted a model of sustainable development that exemplifies responsible, value-driven operations…"
Indeed, the Hayleys Lifecode serves as a guide to the diversified conglomerate towards achieving holistic growth and progress across the board; and these same values help it to connect with its countless partners and inspire sustainable values within its vast stakeholder network, guaranteeing consistent value through times of triumph and tumult.
Holding onto third place on the LMD 100 Leaderboard, LOLC Holdings (LOLC) reported an outstanding 79 percent expansion in its top line for the six months ended 30 September by surpassing its 2021/22 revenue of over 90 billion rupees in the comparable period to register nearly Rs. 163 billion. And its bottom line registered a 39 percent increase with post-tax profits of just over Rs. 20 billion.
Its Deputy Chairman Ishara Nanayakkara says of the conglomerates plans for the future: "During the coming years, LOLC will continue its aggressive geographic expansion across multiple sectors – increasingly reaching out to larger popu­lations. Our well-diversified footprint across multiple markets ensures we are well poised for strident growth in the post-pandemic economy."
"At the same time, we are an organisation that places sustainability and human capital at the centre of our transformation. Ranging from bottom of the pyramid financial inclusion to carving out a footprint in the latest path-breaking technologies, the LOLC Group is expanding and diversifying its presence to become a truly globalised entity, strengthening 'Brand Sri Lanka on the world map," he adds.

For the first six months of the 2022/23 financial year John Keells Holdings (JKH) – which came in at No. 4 – reported a top line in excess of Rs. 140 billion (up 60%) while its PAT grew by an astounding 239 percent to just over 13 billion rupees.
Carson Cumberbatch, the food, beverage and tobacco conglomerate, generated a consolidated revenue of over Rs. 174 billion (up by a jaw dropping 154) for the first half of financial year 2022/23 while its half-yearly post-tax profit grew by some 400 percent to register slightly less than 22 billion rupees.
Group entity Bukit Darah was also well in the black in the first half of financial year 2022/23 with a profit after tax of almost Rs. 22 billion (against a PAT of nearly 4.4 billion rupees in the corres­ponding period of the prior year). Moreover, its turnover increased (also tremendously – by 154%) to over Rs. 174 billion.
For the first nine months of calendar year 2022, Commercial Bank of Ceylon (ComBank) – which is No. 7 on the Leaderboard – reported a consolidated income in excess of 195 billion rupees (up 63%) while its bottom line contracted by 19 percent to slightly over Rs. 15 billion.
Meanwhile, the telecommunications giant Dialog Axiata recorded a consolidated revenue for the first nine months of 2022 in excess of Rs. 127 billion (an expansion of 21%) although its bottom line contracted by more than 300 percent with a post-tax loss of Rs. 25 billion.
Ninth on the LMD 100's top 10 list is the food and staples retailing conglomerate CT Holdings. The entity enjoyed a hike in revenue of 66 percent to over Rs. 97 billion whereas its bottom line grew by 127 percent to over 2.8 billion rupees after tax – versus a profit of Rs. 1.2 billion in the corresponding period of 2021/22.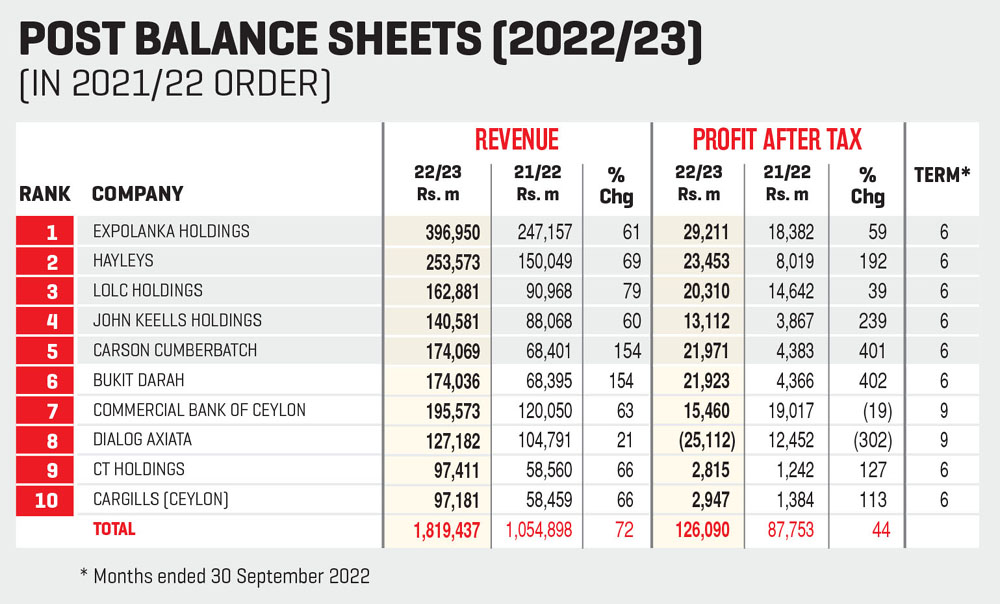 And completing the Leaderboard is Cargills (Ceylon) with a strong showing of turnover in excess of Rs. 97 billion in the first six months of 2022 and a profit after tax of nearly three billion rupees – a 113 percent increase from 2021/22.
BUSINESS OUTLOOK Based on the interim financial statement disclosures at 30 September 2022, it is probable that Expolanka may retain its position of dominance and occupy the top spot in next year's LMD 100 rankings as well.
Likewise, the interim results of the top three suggest that the status quo could well prevail in 2022/23 although the rest of the Leaderboard could witness healthy competition and shuffling positions.
So while the nation and its people brace themselves for another year of belt-tightening, the country's engine of growth may well survive the onslaught – as it has done over the years.
As for the country's macroeconomic outlook, according to projections by analysts, Sri Lanka's GDP is expected to have contracted by in excess of nine percent in calendar year 2022 and the next 12 months could see yet another downturn with GDP eroding by between two and four percent.
On the somewhat brighter side of the fiscal equation, year on year inflation continues to head south although the high interest rate environment coupled with a revamped tax regime is likely to push businesses and the citizenry to their limits