THE LITMUS TEST | 2019/20
SWIMMING AGAINST THE TIDE
Sri Lanka's leading listed entities brave the myriad challenges posed by domestic tragedies and a global pandemic to make headway yet again
The local business landscape was rocked by the events of 4/21, which coincided with the onset of the 2019/20 reporting period for many corporate establishments. What's more, further fuel was added to the fire by a global pandemic that took root towards the tail end of the financial year.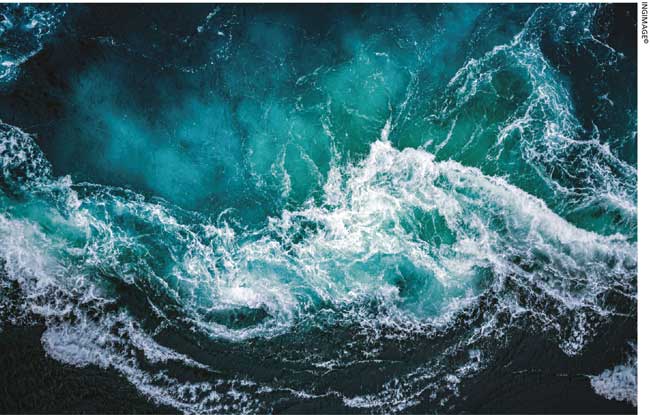 As a result, except for a few bright sparks in the aftermath of lockdowns and curfews being lifted, the LMD-Nielsen Business Confidence Index (BCI) remained on a negative trajectory for much of 2020.
The latest edition of the LMD 100 presents a detailed analysis of how Sri Lanka's leading listed entities performed in financial year 2019/20, set against a backdrop of calamities on multiple fronts.
LEADERBOARD Export-oriented conglomerate Hayleys spearheads the LMD 100, having strengthened its presence as a leading light among listed corporates in Sri Lanka.
Capital goods – together with representatives from the banking, diversified financials, telecommunication services, food and staples retailing, and food, beverage and tobacco sectors – stake their claim to fame as major forces on the LMD 100 Leaderboard for financial year 2019/20.
John Keells Holdings (JKH) was ranked No. 1 in as many as eight of the first 10 years of The LMD 50 (the pioneering precursor to the LMD 100), only to be surpassed by Sri Lanka Telecom (SLT) – a partnership between the Government of Sri Lanka and Malaysian telecom giant Maxis, which went public in 2003.
SLT in turn helmed the rankings for four consecutive years before surrendering its rung at the top of the ladder to the petro giant from neighbouring India – Lanka IOC (LIOC) was The LMD 50's numero uno until 2009/10 with its reign lasting three financial years.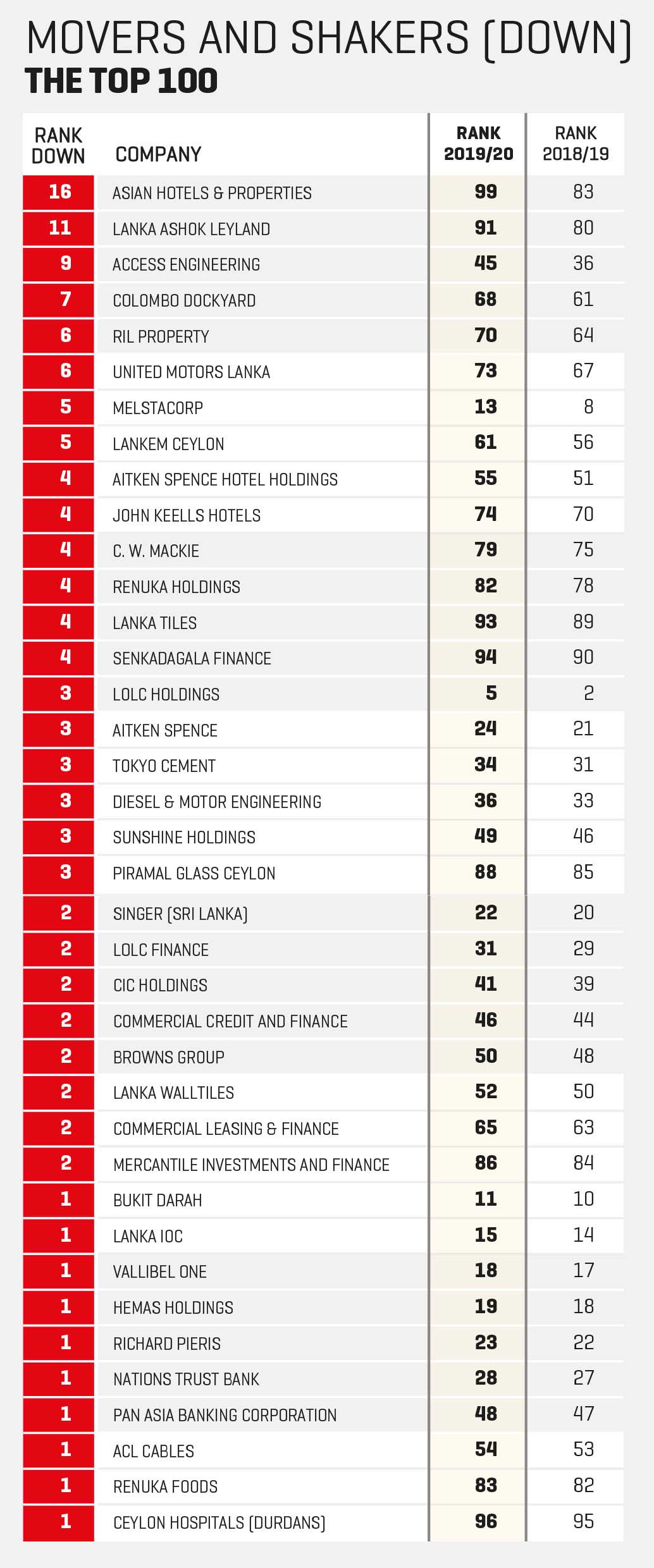 And Hayleys, which was runner-up to JKH in many of the early years – and pipped the latter to the winning post in 1995/96 and 1996/97 – raced ahead of SLT and LIOC in 2010/11 to occupy second place on the podium. In terms of the latest LMD 100 hierarchy, Hayleys retains the No. 1 spot. Meanwhile, Commercial Bank of Ceylon (ComBank) climbs up to second place and is followed by Hatton National Bank (HNB) in third. JKH moves a notch higher to No. 4 while LOLC Holdings rounds off the top five in the latest edition of Sri Lanka's premier listed company rankings.
Sampath Bank (No. 6), Dialog Axiata (in seventh place) and CT Holdings (No. 8) comprise the remainder of the Leaderboard, alongside Cargills (Ceylon) and Carson Cumberbatch, which are ranked ninth and 10th respectively.
REVENUE STREAMS Aggregate revenue of the island's 100 largest quoted companies amounted to Rs. 3,787 billion in 2019/20, which reflects an annual growth of two percent – in the period under review, the official rate of inflation stood at 3.5 percent so the state of the LMD 100's combined top line isn't anything to write home about.
To put this in perspective, the aggregate turnover of LMD 100 companies improved by 15 percent while inflation stood at 2.1 percent in the previous financial year.
As many as 50 (versus 49 in the preceding year) LMD 100 entities registered an annual turnover of more than 20 billion rupees in financial year 2019/20 – and furthermore, the 12 highest ranked corporates (Hayleys, ComBank, HNB, JKH, LOLC, Sampath Bank, Dialog, CT Holdings, Cargills (Ceylon), Carson Cumberbatch, Bukit Darah and Expolanka Holdings) surpassed the Rs. 100 billion mark.
As for revenue growth, Overseas Realty (Ceylon) comes out on top with a 31 percent year on year uptick (to Rs. 8.9 billion), making it the only entity to report a top line improvement in excess of 30 percent for the financial year.
BOTTOM LINES At Rs. 223 billion, the 2019/20 cumulative post-tax profit of the LMD 100 plummeted by 20 percent compared to the previous year.
As for other landmarks, the profit after tax of LOLC, ComBank, Ceylon Tobacco Company (CTC), HNB, JKH, Sampath Bank and Dialog crossed the Rs. 10 billion mark in financial year 2019/20.
However, 17 (versus 6 in the prior year) of Sri Lanka's LMD 100 companies ended financial year 2019/20 in the red – viz. United Motors Lanka, E. B. Creasy, Expolanka Holdings, Merchant Bank of Sri Lanka & Finance, ODEL, Aitken Spence Hotel Holdings, Lankem Ceylon, John Keells Hotels, Brown & Company, Colombo Dockyard, LAUGFS Gas, Carson Cumberbatch, Bukit Darah, Softlogic Holdings and Colombo Fort Land.
Among the movers and shakers are Sierra Cables (tax-paid profit up by a whopping 1,808%), Tokyo Cement (587%), Browns Investments (455%) and Lanka Milk Foods (329%).
TAXATION On average, an LMD 100 entity forked out one billion rupees in taxation for 2019/20, which represents an eight percent dip compared to the previous year's tax bill.
The Leaderboard accounts for 30 percent of the combined taxes of the LMD 100 in 2019/20 as the top 10's payout decreased by 29 percent (versus an increase of 19% in 2019/19) to under 31 billion rupees.
Similar to previous years, CTC's contribution to state coffers during the period was the highest among the nation's listed companies on account of a tax charge of more than Rs. 11 billion.

ASSET VALUES The largest listed entities in Sri Lanka enjoyed a 10 percent appreciation in total assets from the previous year, which is slightly below the uplift in asset values recorded in both 2018/19 and 2017/18.
The banking sector holds sway in the LMD 100's asset related rankings as it represents 46 percent of the combined portfolio of assets of the premier listed entities in Sri Lanka.
ComBank continues to be at the forefront of balance sheet strength with Rs. 1,409 billion in assets at 31 December 2019, followed by LOLC (Rs. 1,336 billion) and fellow private sector banking giant HNB (Rs. 1,196 billion).
Meanwhile, Browns Investments is ahead of the pack for highest percentage gain in asset values among the top 100 – its total assets of 116 billion rupees reflected a 95 percent appreciation from the end of the preceding year. John Keells Hotels is next in line on the back of a 63 percent uplift in asset values in 2019/20.
MOVERS AND SHAKERS Overseas Realty (Ceylon) made the most notable progress in the climb up the listed company rankings by moving 17 spots in the top 100 list to No. 76. Softlogic Life Insurance also achieved a similar distinction by jumping 10 places up the LMD 100 scale to 64th place.
In sum, as many as 37 of the island's largest corporate entities climbed up the LMD 100 ladder.
SECTOR RANKINGS Capital goods lead the way amongst the leading listed companies in Sri Lanka with their cumulative income representing 23 percent of the LMD 100's combined revenue and 24 percent of shareholders' funds in the period under review.
The banks follow as the second largest player in the LMD 100 with an aggregate income in excess of Rs. 700 billion and a share of 19 percent of cumulative revenue in the 12 month period. What's more, the sector accounts for 28 percent and 26 percent of LMD 100 profits and shareholders' funds in 2019/20.
INVESTOR YARDSTICKS CTC leads the way with a market capitalisation of Rs. 187 billion at 31 March 2020 and is followed by JKH, which registered a market cap of 152 billion rupees at the end of financial year 2019/20.
As for aggregates, the LMD 100's combined market capitalisation decreased by 19 percent (to Rs. 1,645 billion) between 1 April 2019 and 31 March 2020.
Marking a drop in the tally versus the preceding financial year, seven of the island's 100 leading listed corporates maintained an equity value in excess of 50 billion rupees at the end of 2019/20.
The top five (CTC, JKH, Dialog, Ceylon Cold Stores and Distilleries Company of Sri Lanka) accounted for a little under a third of the LMD 100's combined market cap.
THE FUTURE In May last year, the Ceylon Chamber of Commerce proposed a multi-sectoral approach for post-COVID economic revival encompassing immediate, medium and long-term proposals across a range of key economic sectors.
These include agriculture, apparel, capital markets, construction and real estate, the digital economy and e-governance, food and beverage manufacture, healthcare, tourism, trade including manufacturing and international logistics, non-banking financial institutions (NBFIs), plantations and telecom, as well as thematic proposals pertaining to labour regulations and tax proposals to drive a sustainable economic recovery among others.
And recently, in December 2020, Fitch Ratings recalibrated its Sri Lankan National Rating scale to reflect changes in the relative creditworthiness among Sri Lankan issuers, following its downgrade of the country's sovereign rating to 'CCC' from 'B-' in November, adding that this would "result in rating actions for some issuers with Sri Lankan national ratings."
The rating agency explains: "The downgrade reflects Sri Lanka's increasingly challenging external debt repayment position over the medium term. In particular, a sharp rise in the sovereign debt to GDP ratio associated with the coronavirus shock and narrowing financing options have heightened debt sustainability risks."
Fitch observes that "the sovereign's financing and debt service challenges are exacerbated by its existing financing model, which has resulted in very high general government interest to revenues ratios. The average interest to revenue ratio from 2016 to 2020 is about 50 percent, substantially above the 'CCC' peer median of about 11 percent."
As for international affairs, the IMF's World Economic Outlook (WEO) published in October points to a somewhat less severe though still deep recession in 2020, relative to its June forecast.
"The revision is driven by second quarter GDP outturns in large advanced economies, which were not as negative as we had projected; China's return to growth, which was stronger than expected; and signs of a more rapid recovery in the third quarter," the IMF explains.
It continues: "Outturns would have been much weaker if it weren't for sizable, swift and unprecedented fiscal, monetary and regulatory responses that maintained disposable income for households, protected cash flow for firms and supported credit provision. Collectively, these actions have so far prevented a recurrence of the financial catastrophe of 2008/09."
However, the IMF cautions that "while the global economy is coming back, the ascent will likely be long, uneven and uncertain," given that "prospects have worsened significantly in some emerging market and developing economies where infections are rising rapidly."
"Consequently, emerging market and developing economies excluding China are projected to incur a greater loss of output over 2020/21 relative to the pre-pandemic projected path when compared to advanced economies," the international financial institution warns.
And the IMF concludes: "Recovery is not assured while the pandemic continues to spread. With renewed upticks in COVID-19 infections in places that had reduced local transmission to low levels, reopenings have paused and targeted shutdowns are being reinstated. Economies everywhere face difficult paths back to pre-pandemic activity levels."